MSAPMS is seeking applications for the 2022 Student Scholarship to be awarded at the 2022 annual meeting in Mobile, AL.
We request that the successful applicant attend the meeting and give a presentation of academic progress and results as they are available.
One scholarship of $2,500 will be awarded to a qualified graduate or undergraduate student applicant enrolled and studying aquatic plant science or other relevant research.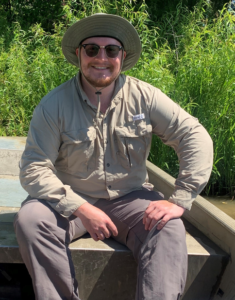 Andrew Sample received the 2021 MSAPMS Student Scholarship Award
To apply, the Scholarship Committee should receive the following information by August 15th, 2022:
A cover letter which includes the applicant's previous, current, and future relationship to the aquatic plant management industry, and a comment on the importance of the proposed research to aquatic plant management.
Copies of unofficial or official transcripts of undergraduate and any graduate work completed to date (these transcripts may be those issued directly to the student by the institution);
A letter from the student's major professor or advisor recommending the student for the scholarship, indicating that the student is currently enrolled and in good standing;
One letter of recommendation, other than the major professor;
A copy of the proposed research plan. For graduate applications, proposals approved by the graduate committee are preferred but not mandatory.
All submissions may be made with either hardcopy, addressed as below, or electronically (in PDF format) via e-mail.
To enter an application or request more information, contact:
Gray Turnage, PhD
Assistant Research/Extension Professor
Mississippi State University, GeoSystems Research Institute
P.O. Box 9627
Mississippi State, MS 39762
Email: [email protected]
Phone: 662-325-7527
Fax: 662-325-7692